Japanese Street Fashion 101
Tokyo Fashion Subcultures Explained
There's no question that Japanese street fashion is much talked about by trendsetters all over the world—and there's nothing we love more than fashion. Some might see Japanese fashion as a bit crazy, but to those people we say, come on, live a little! Here at ACG we just can't get enough, even if we don't feel like we could necessarily pull off some of these looks ourselves, we nevertheless love those who go the extra mile to make the world a more interesting place. Fashion is all about self expression after all, and these subcultures go all out. So if you're curious about these street fashions, we've outlined a basic guide to eight of the most widely seen subcultures in Tokyo, and explain a bit about what makes them unique. Keep in mind that some of these looks and subcultures run very deep, meaning there's a lot more to them than what most see on the surface, this basic guide is meant to educate and give you a peek into the street fashions you might see on your next trip to Tokyo.
Cosplay
Yeah, you might have seen this term before on one of your misadventures on Google, but what exactly does cosplay mean? It is a broad term that's short for "costume play" and it doesn't refer to one specific style or look so don't get it confused with a style of fashion. Cosplayers (people who participate in cosplay) are often inspired by manga, comic books, video games, movies, and other popular culture icons. This isn't only a Japanese thing, cosplay happens all over the world (think Comicon or Fan Expo), however in Japan—Tokyo in particular—there's a higher chance that you'll see cosplay inspired street fashion day to day, as opposed to North America where you'll more likely only find these outfits at cosplay events. You might be thinking to yourself that this feels like Halloween every day, well not really. Cosplayers work very hard to ensure their outfits are as accurate as possible to the character they're trying to replicate, meaning that their costumes are often much better quality than your typically run-of-the-mill Halloween costume, unless it was created by a cosplayer of course. Now that we've cleared that up, on to the fashion!
---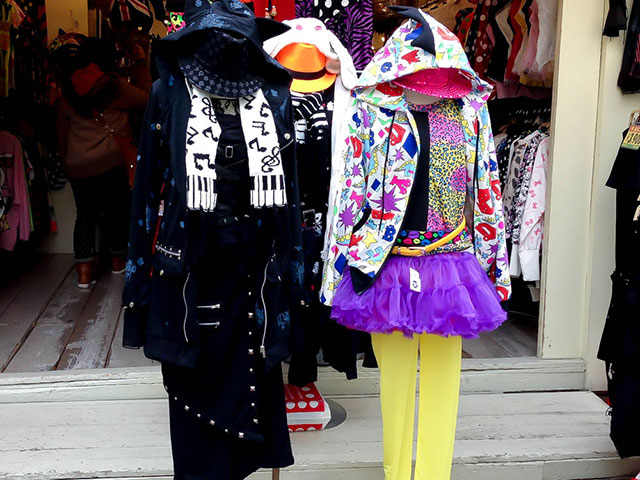 Decora
The word decora translates roughly into 'decorative' or 'decoration' in English, and so it's not surprising that this subculture is highly decorated. This look consists of many layered accessories like hair barrettes, necklaces, bracelets and even small toys, which are usually bright and playful—although not always. This look almost seems like a life sized Rainbow Brite, and it may remind North Americans of the look that was briefly popular among candy ravers in late 1990's and early 2000's. As with Lolita (below), decora is divided into it's own distinct subcultures. Pink decora, is, well, pink-centric, Lolita decora is youthful, often dressing in tutu's and cartoon characters, and dark decora can be seen wearing the same type of accessories only in darker, more gothic inspired colors. Overall it's is a look that most Japanese refer to as 'kawaii', meaning cute or adorable. A number of stores in Harajuku sell fashion and accessories to create this look, and you can also find a few shops at Shibuya 109 which specifically cater to the Decora street style.
---
Ganguro
A ganguro is an almost cartoonish version of Californian valley girls, often rocking bleached hair, noticeably tan skin, and heavy make-up. The look evolved from another more extreme subculture called yamanba, which was inspired by a Japanese folklore story of a ghost that lived in the mountains. Yamanba is intense and really obvious because of the drastic darkening of the skin, however, the look isn't seen much these days. Today you'll more likely see ganguro girls with heavy tans, both real and fake. Although the styles yamanba and ganguro are not the same, they are born from the same idea. Ganguro wear light hair and sometimes add streaks of pink or blue. The make-up worn around the eyes and on the lips of ganguro is usually white, and sometimes colorful gems or stickers are added to the cheeks. The outfits are often bold and brightly colored, and sometimes flowers are worn in the hair, or leis are worn around the neck.
---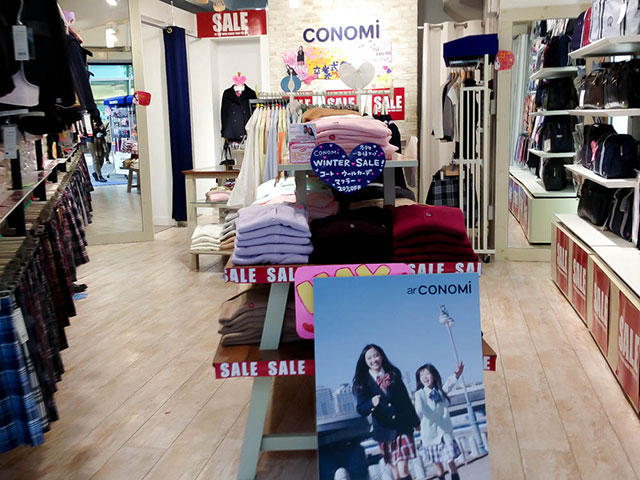 Kogal
The word kogal loosely means 'high school girl' and the style is marked by the use of the private school uniforms. Short tartan skirts, slouchy white socks, school uniform blazers, are all part of this look. This fashion trend commonly referred to as "schoolgirl" is well known in the Western culture, and portrayed in popular movies and video games. The look started in the 90's and although you'll still see groups of high school girls rocking their school uniforms on the weekend, the overall style has evolved into what is known as the Gyaru style (below). The image above is Conomi a shop in Harajuku that focuses on the Kogal look.
---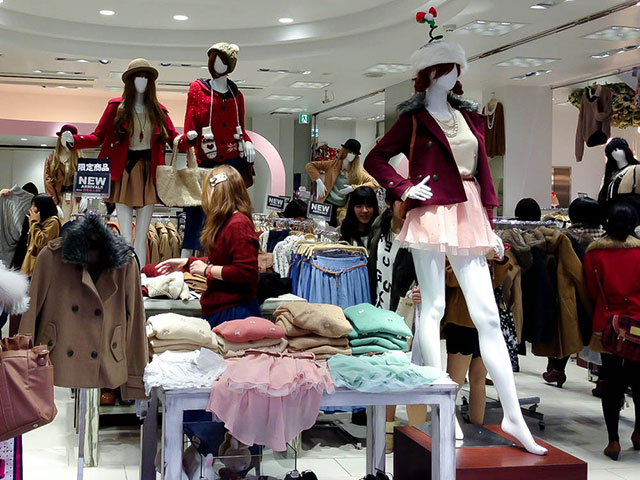 Gyaru & Gyaruo
The term Gyaru means gal in Japanese, and so it's not surprising that this look is overly feminine in nature. Gyaru's tend to embrace Western girly fashion trends, wearing mini skirts, fake lashes, hair extensions, a lot of jewelry and high-heels. Essentially Gyaru is your typical teenage girl style, and the Gyaruo is the male equivalent. Department stores in Tokyo, Shibuya 109 and 109Men's are two large shopping complexes that cater to Gyaru & Gyaruo style as well as a few of the other subculture styles we've listed. A few other places you can find Gyaru style are Momo, Cruce ANAP, Spinns, and Aquagirl on the Street which all feature the newest fashion trends on the market. 
---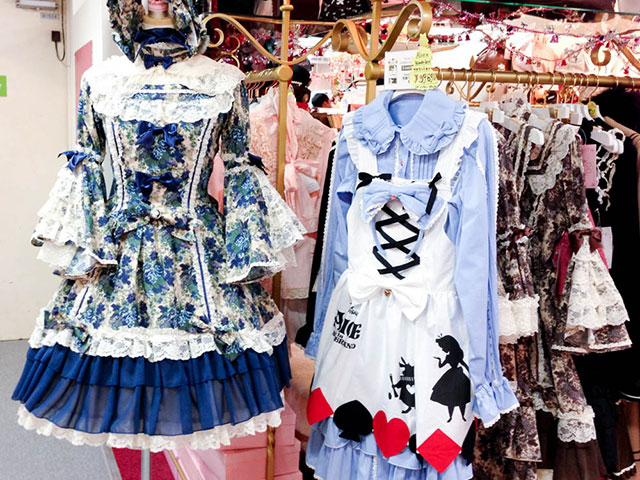 Lolita
This is a complex one because Lolita is a subculture that also has many sub-subcultures attached to it. Classic Lolita, gothic Lolita, sweet Lolita, and punk Lolita are some of the main looks, but there are others that spin off of those such as 'shiro' Lolita (shiro means white in Japanese—as in dressed in white, not skin color), sailor Lolita, princess Lolita etc… The Lolita style in general is a mixture of elaborate costumes that are inspired by Victorian and Rococo era fashion, which are blended with today's fashion trends to create a very unique look. Although many in the Western culture draw connections to the Vladimir Nabokov book of the same name, the term Lolita in Japanese fashion has nothing to do with over sexualized youth, it's actually it is quite the opposite. Lolita in Japanese refers to a style that is elegant, modest, and very buttoned up—the end result shows very little skin at all.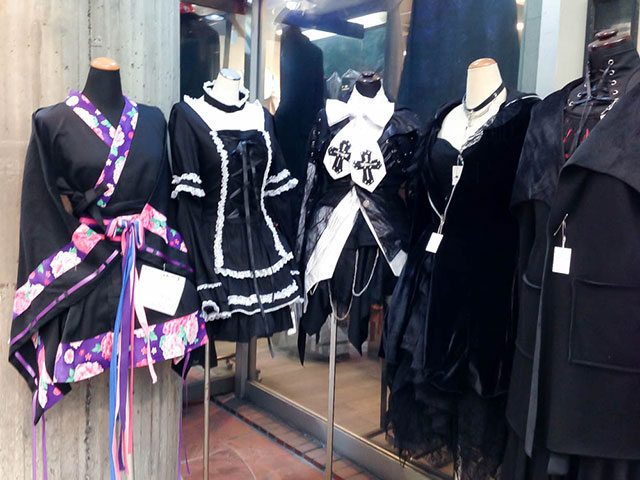 The concept of Lolita street fashion is to rebel against overtly sexual clothing, so what you end up with is women dressed in high collars, full sleeves, ruffles, lace, and full skirts. Sweet Lolita will be heavily pink and red, while gothic Lolita will be in the same style of clothing but in a palette of dark black and burgundy. Punk Lolita is influenced largely by Vivienne Westwood's punk rock style and you can score some sweet vintage Westwood pieces at Vivienne Westwood Closet Child. Lolita dresses can be found at a number of shops in Tokyo including: Laforet Harajuku, Bodyline, SEX POT ReVeNGe, and H. Naoto.
---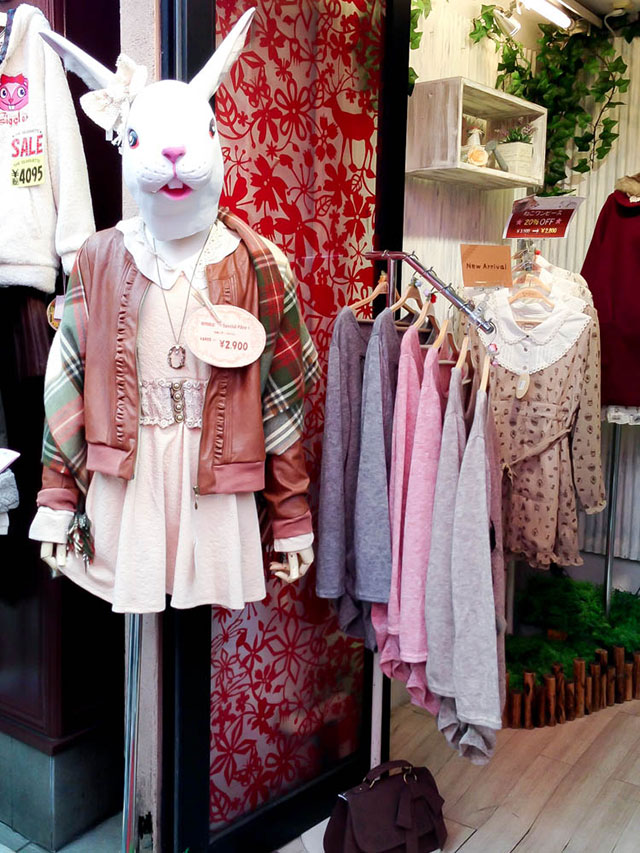 Mori
The word Mori actually means 'forest' in Japanese which is a hint to the idea behind this subculture. Mori girls identify with nature and strive to look as though they were plucked from the pages of a romantic fairytale and placed in a busy city. A Mori girl can be seen wearing dresses, lace and floral prints, usually in tonal palettes of tan, rose, and light brown. Their clothing and accessories are layered and loose fitting and look as though they raided a very fashionable grandmothers closet. Vintage plays a big role in this subculture's look, but there are many clothing labels that now create collections each season to cater to this popular style. Because the idea is to look as though you have been wondering in the forest, Mori girls are often appear natural, earthy, airy. They tend to wear very little make-up, apart from a blushed cheek to get that true outdoorsy flush. If you're looking to find some core Mori girl pieces in Tokyo check out Wonder Rocket, Culture Medium, and Romantic Standard. For beautiful vintage Mori pieces make a stop at Me-Meno.
---
Rockabilly
Rockabilly is something that most of us can spot a mile away. The love of vintage 1950's Americana, both music and fashion trends make up this style. While not exclusively a Japanese fashion trend—this style is kind of popular everywhere—not many do it quite as well as the Japanese. Guys dress head to toe in Americana complete with greased back, pompadour hair, dark Levi's jeans, and leather jackets. The girls sometimes don the sweet or spicy rockabilly look. The sweet, look as though they stepped out of a 1950's catalog with a bouncy ponytail, poodle skirts, and tiny cardigan. The other option is more of a pinup style with victory rolled hair, form fitting pencil skirts or dresses with sweetheart necklines. If you want to see this in action there's a Sunday afternoon tradition in Yoyogi park in Tokyo, where you can find Rockabilly kids dancing to boom boxes and combing up their pompadours. Some of Rockabilly looks can be found at Takenoko, along with several other cosplay styles.
---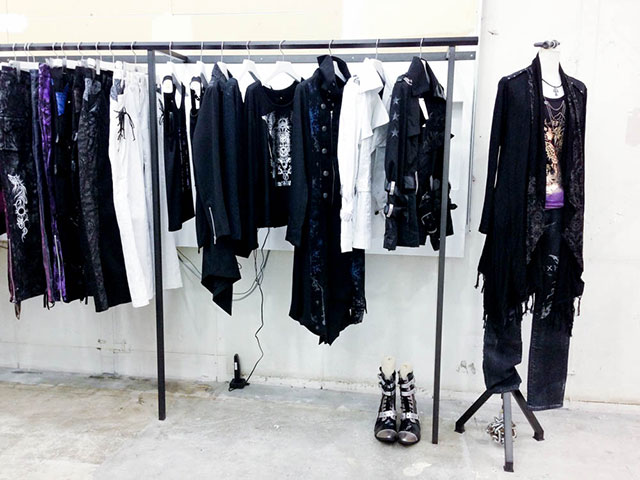 Visual Kei
Could be akin to a punk or rocker look anywhere else in the world, albeit much more intense. This style is influenced by music, and first saw light in the 80's when bands began to adopt this look of dark costume and heavy make-up. Today it is still worn by some musicians, but as with any trickle-down fashion trend, is not reserved only for musicians, it is indeed a fashion subculture which many non-musicians participate in as well. The look is androgynous, with wild teased hair styles, flamboyant make up, and shocking clothing. Many people see the evolution of this style (or rip-off if you will) in America fashion trends with the emergence of of Emo or Scene kids. A number of shops in Tokyo sell this look but H. Naoto, has a nice selection of high quality Visual Kei pieces.
---
So that's a basic run down of the terms you'll need to know to spot the different fashion trends on the streets of Japan. Since this is just a sample of the most popular styles, and new sub-sub cultures are born every day on the fashionable streets of Tokyo, you never know what you'll find.  If there's a big one we missed comment below and we'll add it to the list, and if you rock one of these styles send us your photo and we'll add it to our gallery. We figure the more people that are educated on these trends the better.