Guide to Selvage Denim
A comprehensive look at what, how, and where to buy selvage denim
Selvage denim, or "selvedge" as it's called across the pond, is on the hips of just about every style conscious trendsetter all over the world. This term is dropped frequently to describe expensive or exclusive denims but is never really qualified. What make selvage denim so great? Where does it come from? How do you take care of it? And of course, who makes the best selvage denims? Read on for the answers to these questions to help you sort out if selvage denim is right for you, and where you should start your search for your perfect pair.
Who started it?
Denims were born in the good ol' US of A, which is why denims are often referred to as "Americana." Now-a-days everyone does denim, and some of the most sought after denims are actually produced in Japan. The Japanese have, like with just about everything they do, taken denim to another level with their intense attention to detail. All over the world denim lovers lust after Japanese denims for their vintage Levi's looms, and unique finishing techniques. That's not to say that the rest of the world can't turn it out (pun intended) when it comes to selvage denims. America has a ton of specialty selvage denim producers, and as the need in the market grows, so do the designers that delve into this field.
What the heck is selvage denim, and why should you care?
The term selvage is actually a mashup of the term "self-edge" which has been kicking around for centuries. If you have a background in fabric (and who doesn't?), you might know that every fabric has a selvage. This refers to the finished edge of fabric that prevents it from unraveling once it has been woven or knit. The selvage runs the full length of the fabric on either side and is created by looping the threads back on themselves to create a edge that won't fray or unravel. When looking at the fabric the selvage is the thin strip at the outer edge that is no wider than ¾" wide.
The term selvage denim refers to the way the fabric is woven not the wash on the actual jean. Selvage denims are woven with a continuous thread and are created using very narrow loom called "shuttle looms," which are really the key to creating the salvage edge. These looms are able to weave the fabric in narrow widths that way when the pattern is cut, the selvage can be included as the inner finished seam edge. This process creates a stronger fabric overall and so selvage denims tend to be tougher and last longer than regular mass denims. If you look at the inside seams of a pair of selvage denims compared to regular denims you'll be able to quickly spot the difference. This photo will explain it a bit better.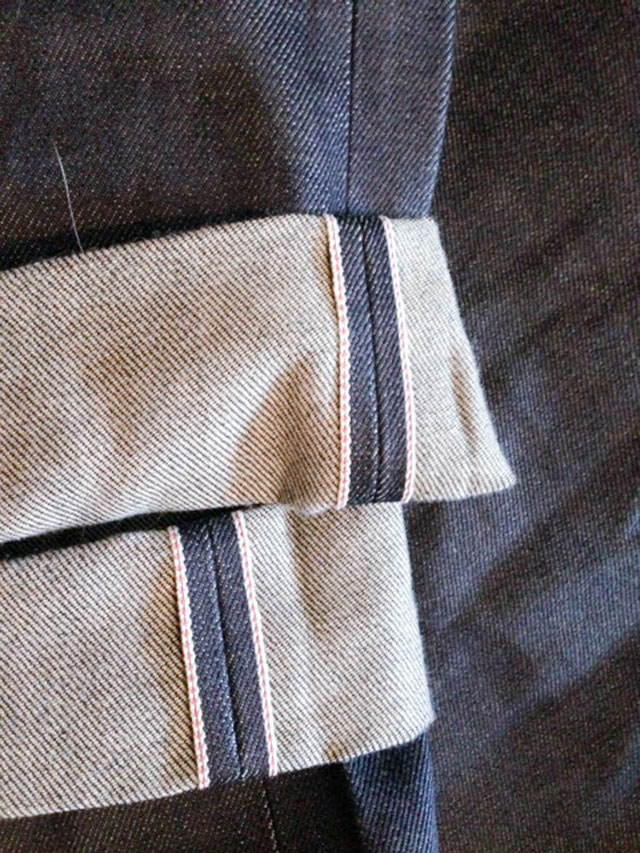 Finished inseam of Japanese selvage denim. 
Finished inseam of regular mass market denims.
You'll notice that the selvage pair has a red strip that runs along the seam edge. It isn't always red (it can be brown, yellow, or green) but red seems to be the most frequently used color. Selvage denims also have a specific stitch In a lot of cases selvage denim denotes a higher quality, but that's not to say every pair of selvage denims is of superior quality. There are a few other factors that must be considered so it's important to ask questions and check the labels before you drop a months rent on some new blues. Here are a few terms that you might come across.
Sanforizing
Basically this is a fancy term for pre-shrinking fabric. Sanforizing actually has to do with treating different types of fabrics (including cotton) before they are sewn into garments. After the fabric is created on the loom the entire length is steamed, stretched, and shrunk repeatedly. This pre-shrink the fabric before it is cut into pattern pieces in order to prevent the clothing from shrinking during the production of the garment, and when the customer washes the piece at home. Since raw denim are usually 100% cotton and cotton is known to have a high shrinkage rate, knowing if your denims have been sanforized/pre-shrunk is important so you can determine what size to get. If it HAS been preshrunk you'll want to purchase a length and width that fits you perfectly. If it hasn't (as in the case of many dry denims) you will want to purchase a style that is a bit longer in length and is a slightly more relaxed fit. That way when you break them in or wash them they have some extra room to shrink in closer to your body shape.
Dry Denim
Dry denim and selvage denim are not one in the same. A pair of selvage denims can be dry or can have heavy finishing, however you'll often see selvage dry denims so it is important to understand what this term means. Dry denim refers to raw denim that has not be exposed to washing or treatments after they have been dyed. It is stiff, harsh, and feels uncomfortable at first, but if you know a few tricks and you're willing to put in a bit of time, dry denims can end up being the most loved thing in your closet. There are a lot of ideas on the right method to breaking in dry denims and there are a lot of arguments from hardcore dry denim lovers.
One opinion is that you can get your exact body shape that forms to you by doing the following. Get in your jeans and soak in a tub of warm water wearing your dry denims. You then allow the denims to dry while you wear them which is going to encourage the denims to stretch and shrink around your body in the right places giving you an exact fit..  to get them to form perfectly to their body. When the jeans dry on you they hug each and every curve of your body—yes we know this sound like an uncomfortable, and maybe a bit crazy, but the effects are actually amazing if you're willing to do it. Once you've soaked and dried in your jeans they won't yet be perfect, you'll still need to wear them frequently to break in the shape and form the creases in the right places. A lot of people won't wash them for extended periods of time, which helps with shape memory in the fabric. So next time you touch a pair of denims in the store that seem wildly stiff just picture them as a blank canvas ready for you to paint yourself into. Every crease, wrinkle, and worn patch will be made by you and therefore authentic. Dry denims are not for weekend only denim wearers. If you've got a 9-5 and only pull out jeans once in a blue moon, this is way too much of an undertaking, and it's not likely that you'll have the patients for breaking dry denims in. For this type of denim customer you're better off purchasing denims that have been pre-treated with softeners and other wash finishes at factory level, because you'll never get the true worked in feel that dry denim obsessives are able to achieve through constant wear.
Weight
No, not your weight, don't worry, we're talking about the weight of the fabric. Denim is measured in ounces, not pounds and there are a few common weights you should know of. Light weight is anything under 12 OZ, medium is classified as 12–16 OZ, while heavy would be anything over 16 OZ, most commonly 20 OZ. As a general rule the heavier the fabric the longer they'll last and the harder they are to break in due to their stiffness.
To wash or not to wash
We've all heard the rumors that you aren't EVER suppose to wash your selvage or dry denims, well that's not exactly true. Washing frequency is based on you and your own needs. How often you wear them, the effect you're trying to achieve and of course one thing that most people forget, what are you doing in these jeans. Personally I'm a pretty messy person. It's not unheard of for me to spill, splash or fall into something over the course of a week, and in that case I would no question wash my jeans. But, as a rule if my jeans seem clean I don't throw them in with my weekly laundry because it will fade and wear your denims easily.

If you do need to wash your denims there are some methods you can use to help preserve the denims:
If you have the time you can wash them by hand, inside out in cold water. Use very little detergent (and if you are serious purchase a specialized detergent specially designed for indigo denims). Denims should be hung to dry and not wrung out as you would a towel or face cloth, that's going to warp the shape.

If washing by hand seems like far too much work machine washing can be done as well. Just remember to always wash in cold water—BY THEMSELVES. The last thing you want is indigo dye over an entire load of laundry. Turn them inside out will help protect the indigo, creases, and worn sections your body has created. Use very little detergent (and specialized as mentioned above), and always hang to dry instead of using the dryer.
So where the hell do I get them?
As mentioned above many designers now carry their own brand of selvage denims but here are a few of our favorites.
Japanese brand that uses African cotton woven on a slow loom.
Nudie 
Sweden denim brand that is well known for their superior dry selvage denims made from organic and recycled cottons. Their online store stocks a number of cuts and and styles, and most major department stores and specialty denim shops carry them. Pretty much everyone who rocks these jeans swears by them. 
Evisu
Probably one of the most famous Japanese selvage denim brands that had a big hand in bringing selvage denim to the masses.
American made from quality Japanese fabrics. 
Custom and specialty selvage denims made to order. You can have your pattern cut to your specifications and stored for multiple purchases.
Does a great selvage every season in a fashion forward fit.
Naked and Famous
Made in Canada from rare Japanese selvage these denims are highly sought after for their superior fit and attention to detail.
3Sixteen
American made and well known for their great fit.
Tried and true, this brand has been in denims since before they were cool, clearly they know a thing or two about them. The Lee shop in Paris specialize in denims and you'll find vintage archival Lee 101 selvage among the many different styles.
If you're a selvage beginner and spending $300+ on denims seems crazy, you might want to try a this mass market Japanese retailer (now also in the USA)  as your starter pair, they tend to be under $100.
This is just a tiny selection of some of the best brands we love, but there are many, many others. At the end of the day selvage denim is one of those products that you really have to live in for a while to understand what all the hype is about, so what are you waiting for? Go find your perfect pair.