Savile Row
An Essential Guide to Buying Bespoke in London.
There's little more attractive then a man in a good suit, ask anyone. But what's better than a good suit? A bespoke suit of coarse! Bespoke means made for you, or tailored to your specifications, and although bespoke is hot all over the world right now, there's one place that does it like no other—Savile Row in London. If you've got money to burn and want to take your look from well-dressed to best-dressed, here are a few things you might want to know.
The Basics:
Before we get into the nitty-gritty you need to understand some of the basics. Savile Row is a street in London that's known throughout the world for it's classic, bespoke tailoring. The history of the street goes back to the 1700's when it was occupied by military officers and their families. During the beginning of the 1800's, tailors began to pop up on the street attracted by the wealth of the officers in the neighborhood. It's not surprising with the clientele in the area, that Savile Row is also well known for military uniforms. As the street grew with more and more tailors, and even more famous clientele (think Kings, Princes, and Military elite) the name Savile Row became synonymous with the best quality and craftsmanship in men's fashion.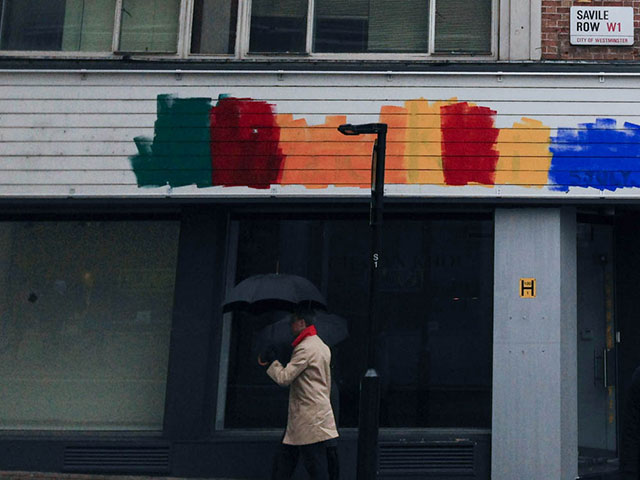 Why you should care:
Today Savile Row still creates some of the best suits in the world, and employs some of the best tailors alive. Whether you're seeking a suit with classic elegance and luxury, or one with a modern cut and colorful details, there's a shop on Savile Row that will 'suit' your needs—pun intended. Bespoke is the art of creating garments that have been customized to your individual tastes, from the ground up. A piece like this is handled by very few people, and for the most part created entirely with their own two hands.This art form requires serious skill, built from many hours of practice, and with mass production and drastic cuts in clothing costs all over the world, this process has almost become extinct. If you think the difference between ready-to-wear and bespoke is negligible you've clearly never had the opportunity to wear something custom. Wearing a custom piece that has been hand molded just for you provides a level of style and confidence that off-the-rack just can't compete with.
Studies have been done that show a well dressed individual is far more likely to snag that amazing job, get an upgrade, and it seems he always gets the pretty girl or handsome guy. Even if you think this is superficial, it doesn't change the fact that it's true. But beyond all that, dressing well is a bit of a lost art form, and done right, has not only the power to change the way the world sees you, but how you see yourself as well. Now I'm not suggesting you'll be a better person with a custom suit, but it sure won't make you worse.
Tailors and how to choose one:
If you don't already have an idea of the tailor or shop you'd like to go to, you'll have to figure out which shop matches your style. Each shop on the Row has it's own heritage and look, some are traditional and others have taken a more modern approach to dress. The answer to this question will be different for everyone based on your likes and dislikes, but the most important factor is that you're comfortable in the style the shop creates. If you're looking at a shop that is overall traditional in feel and you want a contemporary look, the process isn't going to go as smoothly as it could. Although tailors custom create a suit for your taste they are still guiding you through the entire process and imparting on you the wisdom they've learned over the years. You want to make sure the wisdom your getting fits your particular style. Take a look at what the brand is known for, who they currently dress and what they have on offer in their ready-to-wear section to see if the style they do is the style you want.
The bespoke process:
The main benefit of going bespoke is that you can customize your choices the entire way. The cut, the fabric, the details, the fit, everything about the suit is created custom to fit exactly what you need. But before you make the appointment for your suit there are a few questions you should know the answer to. Is this suit for work? Is it for a specific event or special occasion? What time of year will this suit be worn, and in what type of climate? Do you have a budget? If you answer these questions before you show up at your appointment you'll easily be able to answer the questions from the sales consultant, helping them narrow down which fabrics you should be looking at, and which type of cut you want. Remember there are a lot of suit styles, and not every suit works for every occasion or on every frame, so to save yourself (and the shop) some time work this stuff out before you show up. 
Once you've selected your shop you'll go in and choose your fabrics, along with the style of cut you would like. The tailor will take your measurements and talk to you about the specifics you're looking for. The tailor will then go to work drafting and cutting your paper pattern to your exact specifications.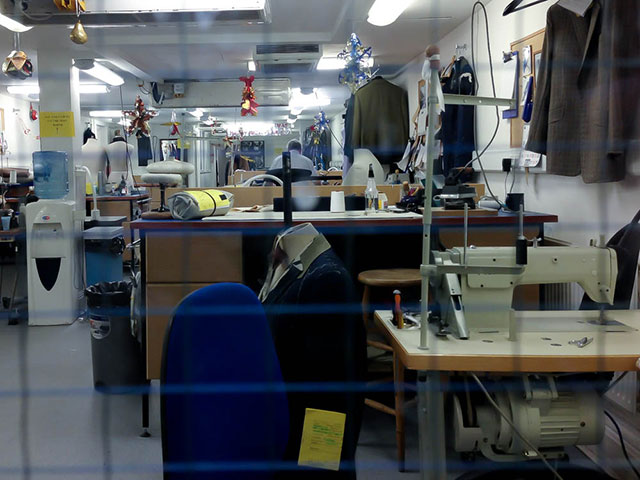 How long does it take, and how much does it cost?
Keep the timeframe in mind, bespoke suits typically take about 8-12 weeks to produce from beginning to end. There are typically three fittings along the way (first, second, and final) over those weeks, so if you're only in town for the weekend this might pose a problem. It is possible to lengthen the process if you are in and out of town frequently and are in no rush for your suit. Likewise, many shops can do rush orders in shorter timeframes if needed.
The cost of a bespoke suit is clearly not cheap, it is, after all, hand-made for you. Although each shop varies slightly you're looking at a starting price between £3000-4500. Note that I said 'starting' with a custom piece the prices depends on many factors including style, fabric choice, and details. If you have a budget that you can't surpass it is best to explain that at the beginning so the shop can point you in the right direction. If money is no object (you lucky thing!) you'll be shown the best-of-the-best and you can expect your bill to reflect it. 
So who are the tailors of Savile Row? 
There are many shops on Savile Row that specialize in suiting, but the following list are the tailors that are members of the Savile Row Bespoke Association—which was put in place in 2004 to maintain the high standards of bespoke on Savile Row. As a member of this association each shop is required to uphold certain practices and technics that have been outlined by the association and its members. Although these aren't the only tailors on the Row, you can safely start here and know that you'll receive the utmost in quality. 
Chittleborough & Morgan | 12 Savile Row
These are two of the names (and the men) behind 'The Nutters of Savile Row.' which in 1969 brought a new life to Savile Row tailoring. These two now run their own shop which keeps alive the memories of the Nutters, but in a more calm fashion. The suits you'll find here have a historic and elegant feel, and unlike some of the other shops this one is entirely dedicated to bespoke with no ready-to-wear.
---
Dege & Skinner | 10 Savile Row
This is one of the oldest on Savile Row and is versed in many different styles. Military uniforms, equestrian, and both business and casual suits. This is also one of the only Savile Row tailor shops that produces suiting for both men and women, which makes it pretty great in our books. 
---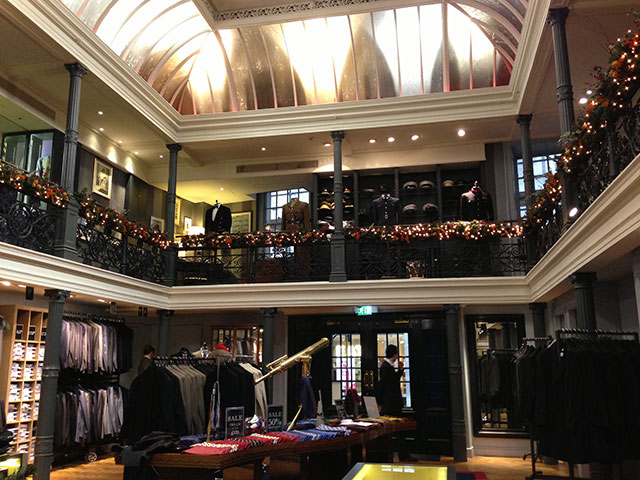 Located at the prestigious address of 1 Savile Row, Gieves & Hawkes is one of the most well known tailors on the block. Recently this shop has undergone renovations making it even more spectacular than yesteryear, with different spaces and rooms to highlight their product. Of all the shops this is the one with the best merchandising, showcasing detailed displays of their historic uniforms and suiting over the years. 
---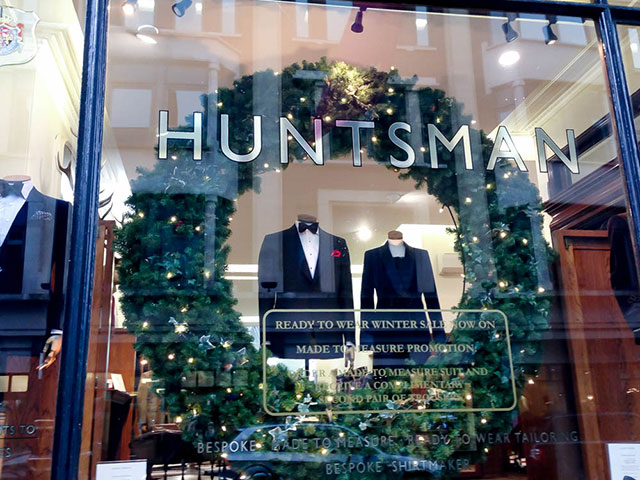 The name (and the stag heads on the wall) might give you the impression that this place only specializes in country sporting suits. Although country-wear is on the menu the specialty of the house is a one-button, sharp shoulder and a slightly longer jacket length. 
---
Hardy Amies | 14 Savile Row
A designer of both men's and women's wear this design house made a name for itself on Savile Row in 1945, and the namesake designer made history in 61' when he orchestrated the first men's ready-to-wear collection. Today you'll only find men's fashion at this iconic shop, but the name still keeps it's edginess through contemporary tailored suiting styles. This shop does both bespoke and semi-bespoke (made-to-measure), which means they use a basic block pattern, and you pick the fabric and finishes.
---
Henry Poole & Co | 15 Savile Row
One of the original founders of Savile Row, and one of the only original shops still in operation. Henry Poole & Co. is a family owned business and has remained one of the most popular tailors on the block. This classic shop is credited with many Royal Warrants and is said to have invented the 'dinner jacket'. 
---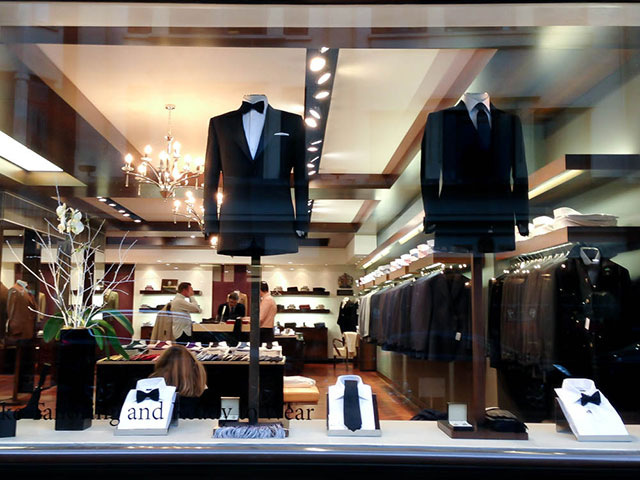 Kilgour | 8 Savile Row
This shop has been around since 1882 and prides themselves on their strong traditional roots, while keeping a keen eye on the contemporary styling, helping them remain current.
---
Norton & Sons | 16 Savile Row
This tailor shop has been around since the mid 1800's and consistently produces clean, minimal suiting, without a lot of extra frills. Bonus: If a trip to London just isn't in the cards for you right now Norton & Sons travels to New York every few months and arranges appointments with clients there.
---
Richard James | 29 Savile Row
Relatively new on the block (1992) Richard James could be considered the youthful face of Savile Row. The styles you'll find here are contemporary as is the layout of the shop, so if you're into traditional technique with a modern spin this is the place for you.
---
Some Interesting facts:
None of the original tailors remain on Savile Row today, except Henry Poole & Co, who, interestingly enough invented the tuxedo.
Speaking of the good ol' tux, did you know it was originally called a dinner jacket? The name tuxedo was only adopted after a group of men who frequented the Tuxedo Club in New York began to all wear this same cut of jacket.
If bespoke isn't in your price range, you'll be happy to know you can now buy ready-to-wear in many of the shops, and of coarse you can always have a fitting to adjust anything that needs a little nip or tuck.