High Altitude
You'll likely find a ton of information on flight essentials such as sleep masks, inflatable pillows, and earplugs—all things that a frequent flyer never leaves home without—but the one thing that is often overlooked while in the air is skin care. The high altitudes tend to dehydrate your skin leaving you looking dull, and there's nothing worse than showing up at your destination looking a mess. Check out our tips and tricks to save your skin while flying.
Before you leave
You are what you eat, or in this case, what you drink. The day before you fly hydrate your body with plenty of H20 to get prepare for your hours of high altitude. Bring a reusable water bottle (empty of course) to fill once you pass the security line.  We love the Platypus SoftBottle that easily rolls up when empty, weigh next to nothing, and take up very little space. If you don't want to lug around a bottle on your vacation, spring for a large bottle of water at the snack counter close to your gate. Either way make sure you bring your own water on the plane to avoid the tiny splash of water the flight attendants bring around every 2 hours. Sure you can ask them for water at any time, but it's much more convenient to just have it at your seat. Another key to staying hydrated is to steer clear of alcohol, which is the quickest way to dehydrate you. We know, we know, you want to start your vacation with a drink at the airport lounge, but if you wanna to look like a million bucks on the other side, stick to water. If this is simply not an option (see, we're reasonable) make sure you remember the 1–2 rule (one part alcohol, followed by 2 parts water). This will help fight the dehydration damage from the alcohol and help you avoid a nasty hangover when you land. 
Right before the flight
Okay so you're past security with your water in hand. Make a stop at the nearest rest room to prep your skin for the next few hours. If your flight is longer than five hours and you plan on catching some zzz's you'll want to wash your face—because let's be honest, mascara and sleep just don't mix. If you wear a lot of makeup, particularly dark eye makeup, you'll likely want a makeup remover. For this pack a few single use pads in your kit, they're mess free and take up very little room. Once you're make up free, wash your face with a gentle cleanser like Cetaphil Gentle Formula, that won't strip your natural oils. Pat your face dry with paper towel (TIP: rip some paper towel BEFORE you wash your face so you don't have to try and find the dispenser while you're face is dripping all over the floor). Next you'll want to apply a small amount of thick moisturizer or night cream, we like Ponds Dry Skin Cream, it's hypoallergenic, has little smell, and best of all it's totally affordable. We stock up on this stuff so we can also use it for our hands and nails, which can also get pretty dry during the flight. Removing any built up grime and prepping with a moisturizer will protect your skin while you fly.
During the flight
You're on the plane and ready to settle in for a nap, but before you do let's talk a bit about germs.  Planes are pretty dirty places, hundreds of people go through them every day. Some are sick, and others are just dirty, so to avoid the travel breakouts—or worse—catching the dreaded air cold that will eat up a good portion of your vacation, you might want to consider taking a minute to disinfect the small area you'll be confined to for the next 5-12 hours. Germs live on every surface—think of how many people sat in that seat before you, would you let them touch your face? Probably not. If you're O.C.D (like some of our writers), pull out your travel alcohol swabs and wipe down the headrest, tray table, touch screen, chair arms, etc… any surface you have to frequently touch during the flight. This will kill any of the germs that might end up on your skin. Now we recognize this might seem a little overboard, but this only takes about two minutes and will not only help you avoid breakouts, it will also prevent you from getting sick and ruining your entire vacation. And hey, the swabs can also come in handy throughout your vacation too. Wipe down the notoriously dirty hotel room surfaces with it as you check in to your room (door handle, remote control, light switch, toilet handle etc…), and you'll further reduces the chances of getting sick.  If you're not so worried about germs (or don't fancy looking slightly neurotic to your seat mate), skip this step and just make sure you don't touch your face during the flight. Keeping your skin germ free will help reduce the chance that a breakout will rear it's ugly head when you're in full-on photo mode. 
If you're traveling across the world on an exceptionally long lag you'll want to refresh your skin mid journey. Since the water in the plane restroom isn't suitable for washing your face, your best bet is to bring a single use cleansing wipe with you and keep it somewhere that's easily accessible. Halfway through your flight crack open your single use cleaning pad, we like Ole Henriksen Truth to go wipes, which you can get at any Sephora. They don't smell perfume-y and really do a great job of refreshing your skin. After your face is clean wipe your hands with the cleansing pad, and give your skin a few minutes to dry. If necessary re-apply your moisturizer. If you've got notoriously dry eyes, flying can them feel like sandpaper, take this opportunity with clean hands to apply a natural, non antibiotic eye drop like artificial tears to your dry eyes. Lip balm to keep your lips from drying out is also handy to keep close by so you can re-apply as needed. Remember to keep drinking lots of water throughout the flight to keep your skin hydrated. If you've drained your bottled stash talk to the flight attendants about filling it back up with bottled water they bring around.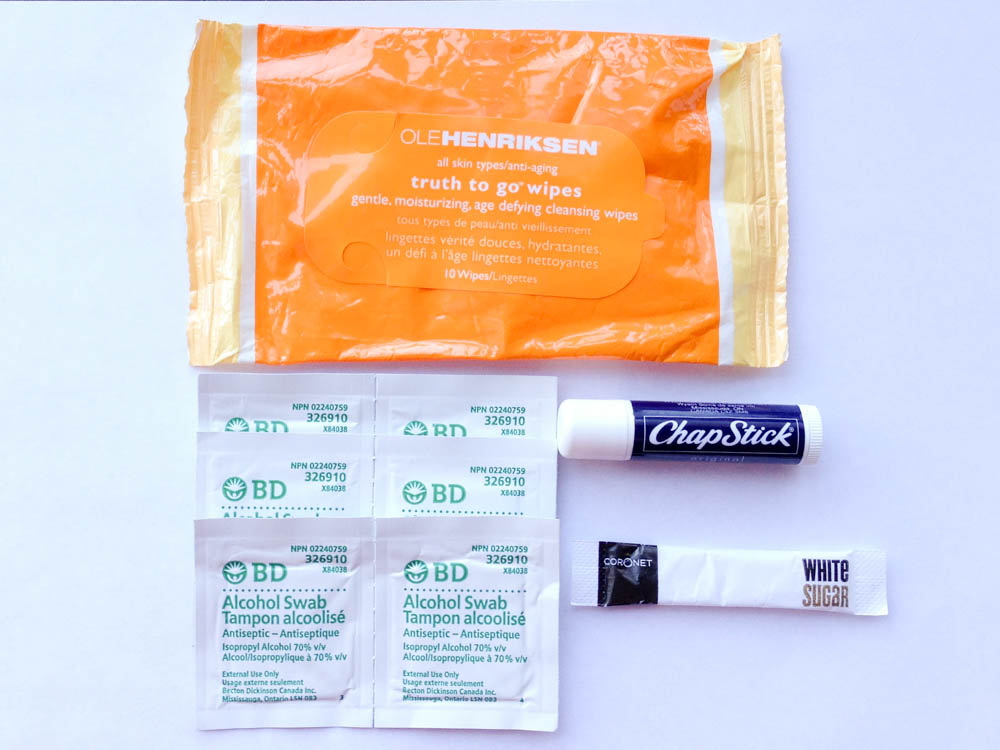 When you arrive
So you've touched down and you're tired, wrinkled, and in serious need of caffeine. You're best bet is to find a restroom and repeat step one with this little added little gem. While you're on the flight request a sugar packet when the flight attendants bring around the drink service, stash it in toiletries bag or your pocket. When you get off the plane, find the restroom, and set up to wash your face with your gentle cleanser but add the packet of sugar to the cleanser to create a simple face scrub. Working in circular motions gently slough off any dull skin, revealing the glowing you underneath. Sugar is a natural ingredient that won't irritate but will provide enough abusiveness to revitalize your tired skin. The scrub will wake you up, and literally feels like you're scrubbing the long flight way. Dry off, and if you're starting your day, apply your regular moisturizer and a bit of makeup. Brush your hair straighten your clothes (or change if you've got a meeting), and be on your way. Take a gander at everyone else arriving looking like a disheveled mess—aren't you glad you took a few minutes to beat your skin jet lag?